The epidemic of young non-voters
Why is voting so important?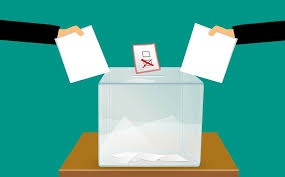 Headed to the polls? Graduation is just around the corner for seniors. With graduation comes senioritis, excitement, and enthusiasm for the future. At the same time, it brings many changes. Students are turning into adults and learning how to participate in society as one. A major benefit of this change is gaining the right to vote. Students who are 18 this year have an incredible opportunity to participate in our country's democracy (referring specifically to the presidential election this coming fall). However, students and adults alike hold different opinions on whether to vote or not. According to the United States Census Bureau, only 46.1% of people aged 18-29 vote. 
"I definitely see value in voting […] I really encourage our students to vote," CWI and Sociology teacher Rodger Anderson said. 
Anderson expressed the importance of voting. Outside of the fact that it fosters drastic changes in our city, state, and country, voting is one way that people can feel connected to the current events in our country. It allows people to participate as a civil member of society. According to Anderson, it's a right that should be practiced and valued. 
However, some argue that choosing not to vote holds just as much value. 
"Pleas for everyone to vote ignore the fact that not voting can itself be a way of voting." "New York Times" Gary Gutting said. While it's true some don't vote because they don't care, others see it as a protest to say that none of the candidates are competent. It can be a way to express disagreement or frustration with either the system or candidates. As Gutting stated, "If you're one of the many who are convinced that our system is effectively an oligarchy, why play in an electoral game you think has been rigged?" 
Although a valid point, this idea doesn't resolve the main issue. Not voting is simply neglecting a right. 
"If they don't vote, they don't have a right [to complain] at all," Anderson said. 
Yes, not voting can be a protest, but not voting when you have strong opinions and then complaining about the outcome is hypocritical. If there's the opportunity to foster change in a way that you believe is productive, why ignore it? Why choose to not participate and then complain? 
While voting is important and highly encouraged, it's not something to be taken lightly. The decision you make should come from information and values. Some still support their convictions about candidates or forms of voting by choosing not to vote. Even though this is a problematic solution, if you decide not to vote, at least make sure that it's after you've researched. The most important part of your decision is thoroughly thinking through and constructing an opinion based on information. Don't neglect to inform yourself about all of the candidates, their positions, how voting is constructed, etc. The worst thing to do is make a hasty or uninformed decision that you can't reverse. 
The importance in voting lies in the value of an individual by that individual. People who have strong opinions one way or another have the opportunity to speak to those opinions. Not only is it valuing the system or country enough to participate, it's valuing your own opinion. It's realizing that your opinions about the country matter enough to make a change. 
"I believe one vote actually matters […] I used to have, in my old classroom, a newspaper article about all these important decisions that were made by one vote. Hitler came to power by one vote," Anderson said. Considering the large and growing number of people who occupy the United States, it can feel less and less like individuals' have a say in important decisions. However, it's important to know that history shows each vote does matter.