2017-2018 Staff
Editor in chief
Marin Nielsen is senior at LSHS, and also the Editor-in-Chief of the Valhalla newspaper. She joined Journalism in her junior year and became the Design Editor, simply for the credits. However, Nielsen grew to love the environmen...
See Marin Nielsen's profile
Online editor
  Senior and Features Editor Audrey Kristofferson is in her second year working on the Valhalla! She joined journalism to see how her writing will develop over the year. Kristofferson is very passionate about her writing an...
See Audrey Kristofferson's profile
Head photographer and news editor
Senior Dawsen Hudson has been interested in photography since he was young, looking up at his mom, who's in the photography business. "She works for a non-profit. She's one of the people who works in weddings and other events"...
See Dawsen Hudson's profile
Design and features editor
Junior Abby Morgan is the newest Valhalla design editor. She does not have the most design experience, but she is an avid learner and picks up quickly to new knowledge. Morgan has chosen to take many outside of school classes ...
See Abigail Morgan 's profile
Sports editor and photographer
Junior Payne Patchett has been the helping hand for the Lake Stevens football and baseball teams for three years now. "If you want to do something just ask don't hesitate and miss your chance. That's how I achieved these gre...
See Payne Patchett's profile
Opinion editor
Sophomore Lorin Wells is a new staff member to The Valhalla and is excited to be a part of our amazing writing program. She believes her literacy knowledge will come in handy as our 2017-2018 Opinions Editor and is hoping to use the...
See Lorin Wells's profile
Arts and entertainment editor
Junior Logan Smith is the Arts and Entertainment section leader for his first year of journalism. He hopes to write eye catching articles that will attract more readers to the Valhalla newspaper, such as articles about comedy, ...
See Logan Smith's profile
Photographer and staff reporter
Sophomore Clara Langerveld is a loving, enthusiastic, and outgoing member of the Valhalla here at Lake Stevens High School. Langerveld will be working as a photographer and reporter, which not only fits her love for photography, ...
See Clara Langerveld's profile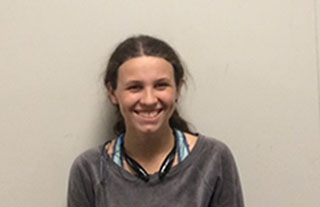 Photographer and staff reporter
Kassie Gruel is a sophomore and so is a newcomer to both the Valhalla staff and Lake Stevens High School. She is one of the staff's Reporters, and a photographer. She has lived in Washington for 2 years. Some other places she ...
See Kassie Gruel's profile
Photographer and staff reporter
Junior, Sadie Malmevik is starting her first year on the Valhalla staff. Working as both a photographer and staff writer Malmevik wants to try a bit of everything this year, listing opinion pieces and club events as some possibl...
See Sadie Malmevik's profile
Photographer
Kani White is an outspoken senior ready to rock her final year at Lake Stevens. Although you may find White slaying on the volleyball court or rocking at the football field with the band, she can be spotted photographing for th...
See Kani White's profile
Photographer
Ryah Robinson is enjoying her second year, and senior year, as a Washingtonian here at Lake Stevens High School after living in Florida for 16 years. Though she misses the sun, Robinson claims to like the Northwest just as much...
See Ryah Robinson's profile
Staff reporter
Junior, Sylvia Cohen is a staff reporter on The Valhalla staff and is really looking forward to writing about others opinions on school matters, random pieces and critiquing other journalism students' articles. She joined Journalism...
See Sylvia Cohen's profile