Moving to the new building brings perspectives for better studies
Changes make every inhabitant of our school express their opinions and thoughts.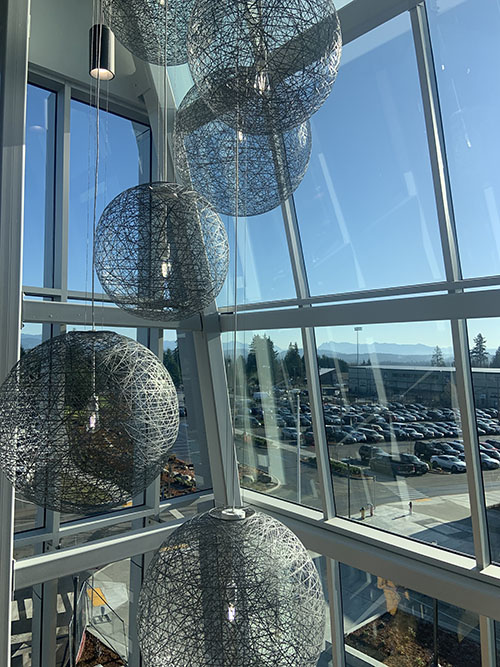 Finally, teachers have almost moved and students have spent their first week adjusting and exploring the new study place in East Hall. 
According to Lake Stevens School District, construction began in June 2018 and was divided into three phases. Phase one was completed in August 2019. Still, a great deal of work was needed to clean, establish a network and phone connections, install wifi access points and classroom equipment in order to allow teachers time to ready their classrooms. 
The new building includes science classes, history classes, offices and the Learning Commons. 
The Cove is planning to move by January 2020, and the DECA class will be next door.  
"The building meets my expectations but what's most important is Design Committee expectations, which was created by the district with community members, parents, and staff. When we did student tours I felt really overwhelmed. I got a lot of positive feedback from students: "Wow!", "Dope!". That makes it worth it. It meets my expectations if it meets the expectations of students and staff", Ivelia said.
One of the features of the East Hall is a view of the mountains a much more natural light than any of the existing buildings on campus.
"I love the new place very much! Love the view and the direct sunlight; love the fact that there is more space for students to work and collaborate in. Students, remember that if you stay in this area, your children will go to this school too so take care of it,", history teacher Heather Helman said. 
The opening of the new building has created change for everyone, and change isn't always easy. 
"I think it's cool. I like architecture, a lot of natural light. I'm not feeling very comfortable here yet because this place is still new, but I will eventually," junior Miya DeCaro said. 
Junior Mariama Fatty has only one class in East Hall because of the Running Start program, but she loves it.  
"The building meets all my expectations, it's really good. I like that the new building has a more open concept and that classrooms surround the Learning Commons area. I really like my new classroom, especially because it is much more modern than my old one. I would tell my peers to respect the space around them and try not to do anything that destructs property," Fatty said. 
Students can consider East Hall as a new chapter of their life. It's never too late to start again and this space is a new start.
The new building was designed to give students more freedom and responsibility, and the administration hopes that students will care for the new spaces. 
"Honor, value, and respect the space the way we would want it to be valued and respected. It's important to take pride in and take care of it because it's ours. I've always said that custodians are here to make things better and improve our place, not to clean up after others," Principal Leslie Ivelia said.