LSHS Through the Eyes of Foreign Friends
Exchange Students Share Their First Month Experiences at Lake Stevens High School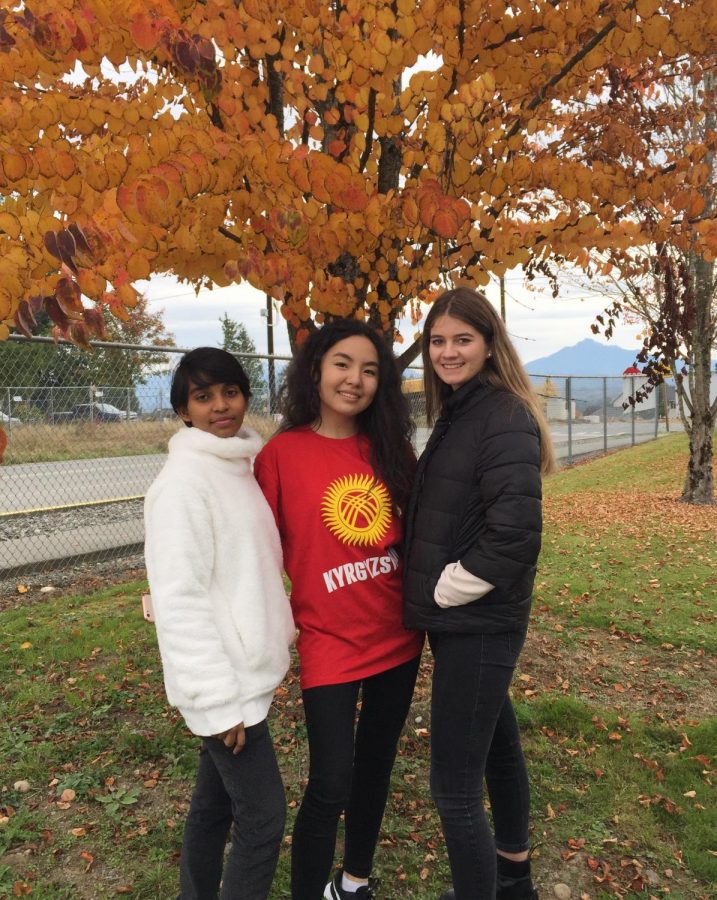 Vis-à-vis! Each year, Lake Stevens High School opens its doors to foreign students. Many come for a new and different school experience. This year is no different. 
This school year, LSHS has a total of seven foreign exchange students: sophomore Olimpia Cieslewicz from Poland, junior Anshika Patel from India, sophomore Salina Laplume from Luxembourg, senior Lois Amponsah from Ghana, senior Nick Gortiz from Germany, senior Katharina Huber from Italy and senior Kamila Almaz from Kyrgyzstan. After a month in school, they've had time to develop some initial impressions.  There are some striking differences between the schools in each country, but also some similarities that make the transition from another country to the US easier.                                                        
For example, in Italy, high schools are separated based on subject. Senior Katharina Huber explained that she went to a science-based school, which means that when she transferred here most of her science and math credits were already completed. It could be for this reason she finds the classes here so easy, or it could be that LSHS generally has less competitive classes. Not only this, but the classes and bell schedule are organized differently as well. "We don't change classes, the teacher comes to us," Huber said. 
Another exchange student, junior Anshika Patel, reiterated this experience. "Back in India, after every class, you don't have to move out of your classes; you have to be in the same class. Just for PE and computer you have to move," Patel said. 
A five-minute passing periods can be an adjustment for some depending on the locations of classes, but that hasn't been the case for Patel, who transferred from a boarding school. 
"My boarding is so big- bigger than Lake Stevens [High School]." Patel said. For her, although she had to go from class to class rather than sitting in one class the entire day, it's easier to get used to each area of the school due to the fact that it's significantly smaller than her other school. 
Sophomore Olimpia Cieslewicz has had a different experience acclimating to a new school.. 
"It's been kind of hard. It took a long time. It was 24 hours, and I wasn't sleeping, so I was really exhausted," Cieslewicz said. 
Going to a new school in a completely different country seems like a wonderful opportunity, but isn't always as smooth as it seems. Fortunately, these students expressed their comfort in the school thanks to the people here. 
"The teachers are very open, they're very kind to you. We don't have that [in Italy]," Huber stated. 
Each interviewee shared their appreciation for their teachers' kindness. Both Cieslewicz and Huber said, as well, that they appreciate the flexibility and welcoming qualities of the teachers here. 
"They're really great- really helpful."   Cieslewicz said. 
The teachers here are a big part of each new students' experience because they are the only people they really know at first. They accommodate students and make them feel comfortable. 
The classes and school in general are important to draw comparisons between, but what about the people of Lake Stevens?
"I was overwhelmed because there's so many people here, but everyone was so nice. And I felt really good," Cieslewicz said. 
It's no doubt Lake Stevens is busy, and it's only getting busier. Thankfully, she felt welcomed by everyone. "They're very open- some people," Huber said. Apparently, that isn't common to her. Students at LSHS are very diverse and different. In a way, our school can be an example of what it looks like to embrace each student's unique personality. 
It seems as though the exchange students are adjusting well to Lake Stevens High School. At first it can be difficult going from a completely different school. Thankfully, students feel welcome and comfortable in this new setting. This is an opportunity, as well, for students here to learn about other cultures and countries.