Five Sports Med girls compete at WESCO
The team cheers them on with enthusiasm!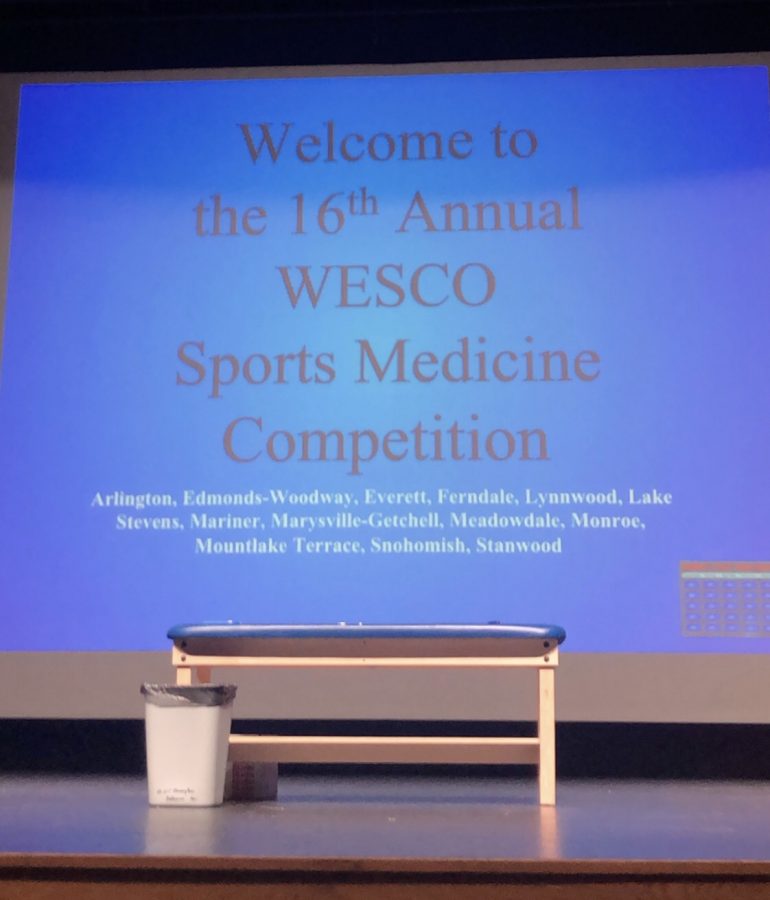 On May 17, 2019, the Advanced Sports Medicine class and students that signed up for the second year of sports medicine traveled to the WESCO Sports Medicine competition on Friday at Everett High School. They competed against 12 other schools for the title of the WESCO champion. Monroe High School was the previous champion and took the 16 WESCO title once again. They could not be beaten.
The first event of the day was the speed taping, where senior Terence Baker competed. He taped junior Emma Crumley's ankle. Although he had a very efficient and supportive ankle taping, Baker didn't move on to the next round.
"I was hoping I was going to move on, but I'm also glad I didn't because it was really stressful being up on stage for everyone to see," Baker said.
The next event that took place was the trivia section and Lake Stevens went up against Ferndale High School. The Vikings didn't move on, but came close with a score of 105 to 110. Each team had to choose one person to do the "lightning round" at the end of the trivia portion, and Lake Stevens chose junior Mackenzie Delgado. There was a series of four questions that Delgado was asked, and she ended up getting two out of the four right, adding 30 points to the previous score.
"It was really frustrating to get asked questions that were a lot more difficult than what the other people got, especially when we had practiced some of their questions the day before in class," Delgado said.
The girls had a fun time even though they didn't move on, and they also had the rest of the team cheering them on while answering each question.