Here are the future college athletes that will graduate in June
From soccer to track, these seniors will excel in athletics after high school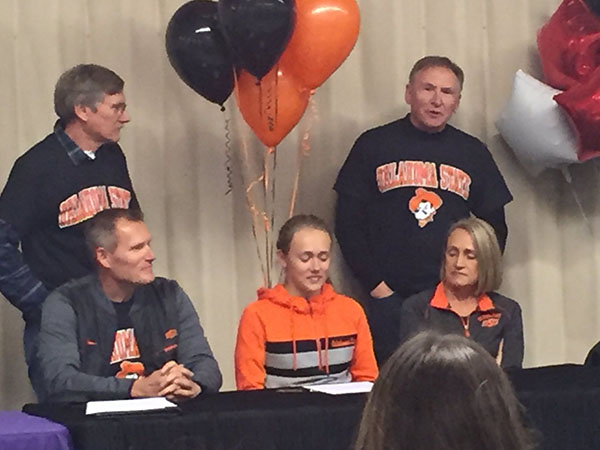 When the year draws to a close, it can be a daunting task for seniors to decide what they will do or where they will go after high school, but these eight seniors have had their paths made through commitments they made over the course of the school year to play their respective sport. Keep reading to find out what these golden athletes will be up to after graduation.
Ethan Anastasi:
The senior soccer player started his recruitment process during his junior year, going to numerous soccer camps as north as Bellingham and as far south as California. But, when choosing where to go for college, his mind was set on one place.
"Saint Martin's had a small campus. It was private, I love the soccer team, and the coach, and I just got a pretty good scholarship, so that was pretty much my top choice," Anastasi said.
Brody Crook:
Another great athlete from the soccer team, Crook originally intended on going with his teammate, Ethan Anastasi, to the same university; however, there was a change of plans.
"My first offer was Saint Martin's University in Washington state, and I accepted that and then [I] decommitted because of the price, so now I'm gonna go play for Whatcom [Community College] for two years," Crook said.
After finding out what Whatcom had to offer, he knew that he made the right choice.
"Whatcom is known as a soccer powerhouse across the nation for community colleges. Most of the players after they're done go on to play [Division 1] or [Division 2], and I just figured that I can maybe take two years to develop my game and see if I can get a potential [Division 1] offer or a powerhouse [Division 2] offer, while also going to school for a lot cheaper," Crook said.
Isaac Gust:
For the past four years, Isaac Gust has excelled on the mat with multiple district championships to his name, but when it came to after high school, his decision was a little personal when he decided to go for University of Wisconsin-La Crosse.
"I had been looking for a good wrestling program in the midwest because that's where a lot of my family lives, and they're always in the top 10 for wrestling," Gust said.
Kacey Laboda:
During her time with the girls soccer team, Laboda had a lot of opportunities to go to an array of colleges across the nation. But like Gust, the reason for her commitment was also personal.
"My mom got really sick and it made me really realize that being close to family is important to me because I was gonna go to the east coast, but with Seattle [University], I'm close to home. But I'm also in a big city where there's a lot of opportunities to work with for medical hospitals right next to me," Laboda said.
Tre Long:
After a historic 2018 football campaign that ended in a state championship appearance, the four year varsity starter had various colleges coming to him due to his success on the football field.
"I didn't necessarily have to pick them because [Montana State University Northern] came to me and really showed some interest, so it was an easy choice," Long said.
Zoie Mastin:
Zoie is another senior who decided to stay close to home. This track and field and cross country star had a lot of places in mind before picking the right one.
"I started at the end of my junior year. I went to Whitworth University and then down to Oregon and then at Saint Martin's University, who I've been paying attention to for a while and I was really interested in them. Then I went to Central [Washington], and that's when I decided that was the place for me to go," Mastin said.
Taylor Roe:
One of the most decorated athletes in recent state history, Roe has been showing off her power on a national scale at numerous invitationals, which means that when it came to picking where to go after high school, she had a lot of choices to choose from.
"I started talking to schools and getting letters when I was fairly young, and [Oklahoma State] caught my eye because they have a really good distance program. When I was talking to [the coach] he was really nice, and when it came down to it, I knew going there was the right choice," Roe said.
Liam Welk:
Another key figure in the football team's championship appearance, Welk was alongside senior Tre Long, and numerous football players in terms of the number of offers.
"It started in junior year and a few schools reached out like Pacific Lutheran [University] and [The University of] Puget Sound, and it got me thinking like, 'Wow, I could actually play this in college,'" Welk said.
But when his choice was made, Welk says that he was told that he was a perfect fit for the school than just the other way around.
"I found out that [Linfield] was interested after the state championship game, and they reached out and told me that I was really what they were looking for. I had the right size, the right speed that they needed. When I went to go visit their school, they were extremely professional. Everything was nice, everything was in great quality and their classrooms were really nice," Welk said.
Best of luck to all of the seniors playing sports after high school!