LSHS Microwave Triggers Fire Alarm
Twenty minutes for a burrito is a bit much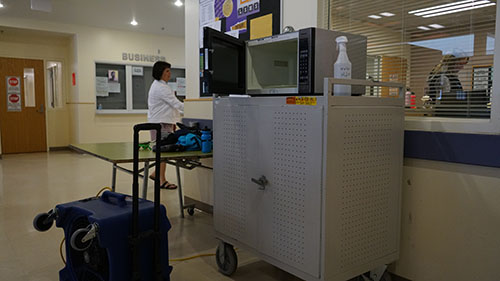 On a late Monday morning during first lunch, the school's fire alarm rang, giving students notice that they must evacuate the school. Students walked calmly towards the back lot to organize themselves and find their first period teachers.
"A lady warned us to get out of the cafeteria after she had seen a black smoke coming from the cafeteria microwave," sophomore Nathan Fleischmann said.
School administrators searched for the source of the smoke and found the cafeteria microwave as the culprit.
"I was sitting at a table near the microwave and noticed a burning smell when I sat down," Junior Ian Mahler said. Upon opening the microwave, the administrators found a melted plastic bag with a burrito inside set to burn for twenty minutes.
"The cafeteria reeked of burnt plastic for the rest of the day," senior Brooke Valentine said.
It is unknown whether the bag and its contents were put into the microwave as a joke or because someone thought that a burrito needed to be microwaved for 20 minutes. Either way, hopefully a lesson was learned in the end.