Students' and teachers' opinions on the possibility of returning to hybrid or online learning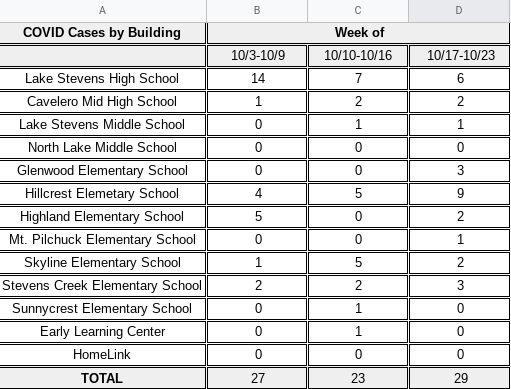 With the new school year now two months underway, many students and staff have noticed the number of absentees already seen throughout the school in just a short amount of time, whether because of a positive COVID test, quarantine due to exposure, or other reasons, there is no denying that the return to full in-person learning hasn't been without its fair share of hitches along the way.
Both teachers and students have different opinions about being back in person, and that was made clear at the end of last year when many students took the choice of staying online instead of choosing hybrid learning. But with roughly 2,000 students at school, even with masks, the system will never be 100% foolproof, and a few students across the Lake Stevens School District have already had multiple cases.
Because of such issues, there has always been the topic of potentially returning to online or hybrid learning if COVID cases have risen to an unsafe level for the safety of staff and students, and people have opinions about that topic, and many take it very seriously.
"The safety and security of the students is most important," ASB President and Senior Kamden Ith said.
"There's a lot of people in high school who are rule-breakers," Ith also said.
The school district has been working hard to make sure the school stays as safe as possible, through enforcing proper mask usage, limiting the number of people eating at lunch tables, and so on. But there will always be a portion of people who don't care enough to follow these rules and guidelines, and it's not uncommon to see students walking around campus without masks properly on or too many people in a group.
"I'm hoping that we do everything that we can to avoid having to go back to remote learning," math teacher Suzan Horn said.
Mrs. Horn brought up how even if there may be plans in place, that getting reacquainted may be an issue,
"It puts a lot of pressure on the school district to try and reallocate our resources and our teachers to doing remote teaching," Horn said.
As of right now, the numbers do not seem to be increasing at a substantial rate, but the fact of the matter is, the cases are still there, and the best thing we can do right now, is prepare and make sure that the COVID guidelines are being followed to the best of our abilities, and encourage others to do the same.
Leave a Comment