Tours postponement
What COVID means for scheduled tours from the present and possibly future.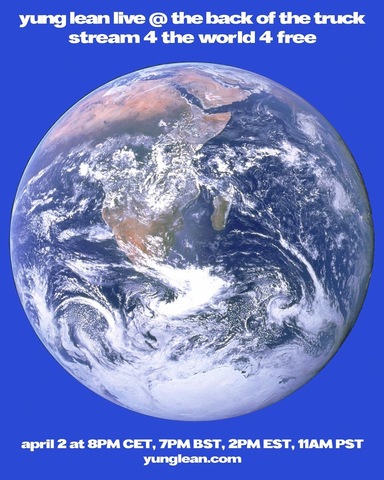 COVID-19 has forced artists to postpone their tours due to the restrictions of travelling, gatherings and more.
An artist who goes by Yung Lean, full name Jonatan Leandoer Hastad, a modern underground rap pioneer, postponed his short tour. With that said, he has an album called STARZ coming out. So, what's a good and kind gesture for the cancelled shows, giving fans joy and a hype builder? A live short show. Yung Lean teased the show by posting the announcement for it on March 30th. On April 2nd, 11AM PST, he played a 35 minute set. Live viewers were around 31,000.
Fortnite announced that there were to be Travis Scott performances in the game where players could attend. Over 12 million players watched in-game and more than 3 million watched from livestreams. 
88Rising, a label and media company, which is also home to Asian artists Keith Ape who went viral from his 2015 hit It G Ma, Joji who had a huge audience from YouTube when he was FilthyFrank, Rich Brian who found fame from his single Dat $tick, and many more, are hosting a live performance headlined "ASIA FOREVER RISING". Some artists on the set list include Rich Brian, NIKI, and plenty more.
As cool as livestream performances are, it's just not the same. The intimacy you feel from being around hundreds to thousands of people who enjoy the same thing as you do, the energy given by the artist(s) and crowd definitely cannot be replicated by an online show with little to no human interaction. This also takes a hit off of a memorable night for attendees and performers. The artists also have money to be made at shows.
However, through this we could see a possible increase of live shows where artists could receive payment and an increase of viewership and growth due to the chance to just have to YouTube search a show and watch anywhere and anytime.