SHWB: Return to the warehouse
SESHOLLOWATERBOYZ come back to where it all started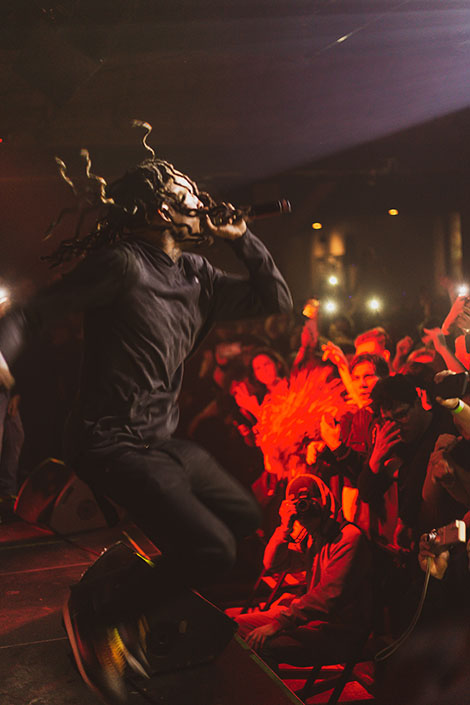 Corsen Siconolfi and Tanner Carr, Section Editors
January 28, 2020
On December 21, 2019, the iconic group SESHOLLOWATERBOYZ or abbreviated as SHWB made their return to the warehouse years after their last appearance in such a venue. Weeks prior, Chris Travis who is the "Water" in SHWB announced his leaving of the group which truly sent a ripple in the fanbase. This built up the hype for the show which was known as the last SHWB show of all time in underground rap was marking the end of an era.
We and senior Cody Self had the privilege to fly to Los Angeles and go to this show to see one of our favorite groups live where their career started. It was truly an unforgettable night and an amazing experience.
The story of SHWB began around 2013 and 2014, although they were affiliated through a previous group from years prior. Bones, Xavier Wulf, Chris Travis and Eddy Baker put their brands together: SESH which is an artist group full of digital designers, producers, photographers and Bones. Hollow Squad is the same with Xavier Wulf. Waterboyz is again similar, but with Chris Travis. Eddy Baker  also has a group called Healthyboyz. Their rise to the top of the music scene was fast and they all had one big thing in common: they despise the music industry and music labels. Everything they create is done by themselves. And so that is why when people talk about SHWB, you may hear how "they made the blueprint" on how to be successful and selfmade.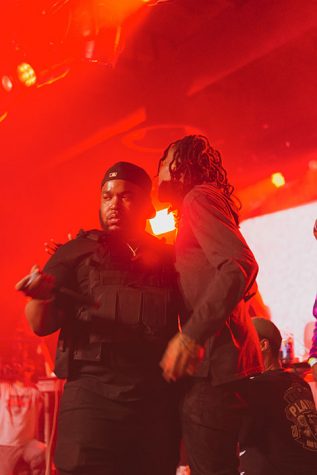 On the Uber drive there, we saw locked up buildings, and on the surrounding streets and sidewalks, people had created multiple tent cities. We even saw a few fires going on the sidewalk. We arrived at the venue at 5:31 PM. Doors were to open at 9:30 PM, and the show was to start at 10:00 PM. We turned out to be lucky as at 6:00, people began to pour into line. Nearly an hour later, the line reached to go all the way down the street and began to go around the block. Also around that time, El, who is Bones' brother, announced that doors would open at 8:30 PM. People were in cars playing the boys, people were in line playing the boys. The hype was definitely there. The majority of people wore their merch, whether it was SESH or Waterboyz. At 8:30 PM, the line began moving, and the reality of what we've been waiting for and paid for was finally here. 
"I'd definitely do it again but in a different setting and venue," said senior Cody Self.
However, the show was to start at 10:00 PM. That turned out to switch. El had also informed us that they wouldn't be performing until everyone was in the venue. From 8:30 to 10:30, everyone was jamming to Three 6 Mafia, Lil Wayne, Chief Keef and other artists. Small chants of "SESHOLLOWATERBOYZ" began here and there. Then El walked out, got on the mic and started to tell us how they wanted to do it for us, asking for a warehouse show, for years and it finally came. A few little adjustments later, the lights went red and the real "SESHOLLOWATERBOYZ" chant began to erupt. 
Finally "Chaos Castle", a SHWB collaborated song began playing. Coming out in verse order, Eddy Baker, Chris Travis, Xavier Wulf and Bones were on the stage. Eddy was going hard as usual on a perfect verse. We were on the front gate and the pressure on our backs was literally astonishing, and the crowd honestly resembled and felt like a tsunami. The love they had for each other as family was definitely there with genuine smiles, feeding off of each other's energy. That's when the announcement came.
Chris Travis asked for a quick cut in the show. Given a small window, Chris reintroduced himself to the group and said, "I meant the last show of 2019," laughing as the next track began. So while it was not the last SHWB show of all time, it was the last of the decade and the first warehouse show after years and one amazing memory in our lives. 
"My favorite part of the show is when we were in the mosh pit and that Chris Travis redeemed himself on stage," senior Cody Self said.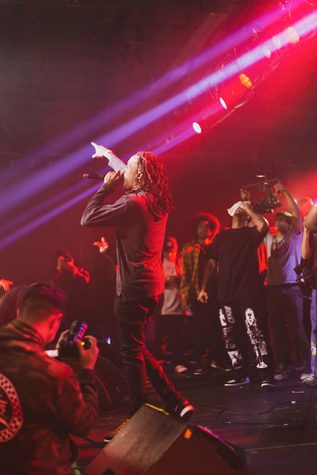 The show began with "Chaos Castle" and ended with their very popular collaborated song "WeDontBelieveYou" only performed by Bones, Wulf, and Travis. The energy was there, the love and sense of family between fans and artists was always there, which is rare to find a group so interactive with fans with so much love towards each other. Also unlike other artists who may have paid meet and greets, they do it for free. 
"Even though getting to Los Angeles was an ordeal; that is something that you just can't buy. You can't put a price on the experience I had," senior Corsen Siconolfi stated.
Seeing artists you have been listening to for a long time is an experience that everyone should have. Although the venue of a warehouse doesn't sound like anything luxurious, there is a real sense of brotherhood between everyone who went. People in line talked to each other about how excited they were, seeing people wearing merchandise dropped by the group over the years, and hearing people play music in line. You can tell that everyone was a true fan and was ready for an unforgettable night.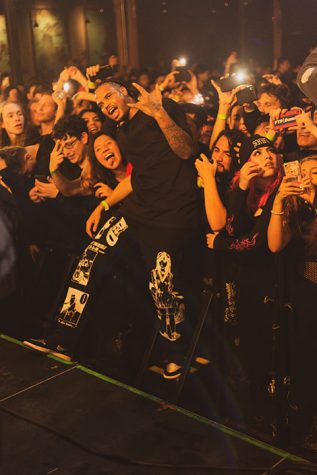 SHWB has always been a group set on doing things their way. The group members have been known to refuse to sign with a music label and deny big names like XXL and Interscope records. Each member has spoken about living life the way they want and not "conforming" to become industry slaves. This shows in the music they put out; which recently has expanded into new genres. Eddy Baker's recently released  "I HOPE THIS HELPS EP" is 80's style pop and synthwave; which is a big change from his usual punk rap roots. Where other artists signed to a label are forced to create music to fit the labels wants, this group shines because of their versatility and willingness to go against the norm. 
"They set the standard or the wave that will be in hip-hop in the next year of few years so you can say they're ahead of their time," senior Tanner Carr claimed.
SHWB and loyal fans go hand in hand. Many people have been following the four artists since their beginnings in SoundCloud, a platform where many new artists upload music and start their careers now. Xavier Wulf has said himself that he was one of the first to start putting out music on SoundCloud and getting paid. Most of their fanbase is extremely supportive, because the group has changed so much in solidifying their style and experimenting with other styles, but very little when it comes to their ideals and the way they view the rap industry. 
The SHWB comeback to the warehouse was everything fans would expect. The high energy combined with the community feeling that they create culminated in a historic moment for underground history. SHWB will surely continue to be known as one of the most legendary underground groups of all time.