Lady Vikings Softball makes history
After reaching the state tournament for the first time in four years, the Lake Stevens Softball finishes with their highest state ranking in school history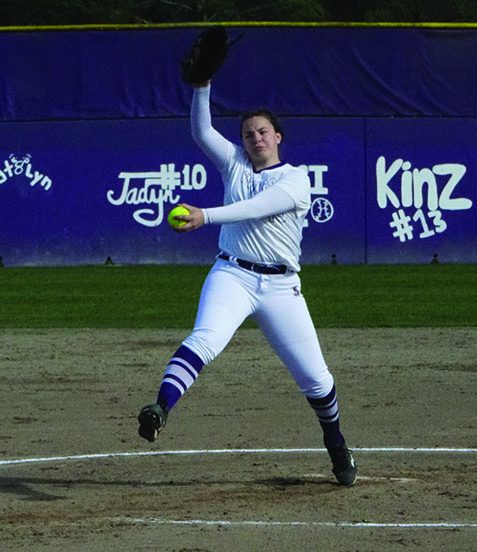 For the past few years, the Lake Stevens Vikings softball team has produced stellar talent in a conference riddled with studs in numerous positions.
But when it came to the Wesco tournament, they always got the short end of the stick.
Now, in a new season, with a new tournament format, not only did the Lake Stevens Vikings earn a spot in the state tournament, but they also had the highest finish for any softball team in program history by reaching their first ever state championship.
After finishing off a solid senior season that saw the Vikings win the Wesco regular season title, they started their postseason run against the Woodinville Falcons of the Kingco Conference. The Vikings won that game in a near 3-hour contest 9-8, which saw senior pitcher Kaylie Hoskins strike out 14 Falcons in a complete game win.
"We were all excited to play here," Hoskins said. "We were all pumped up, and I used that as adrenaline to keep throwing as hard as I could."
The Vikings lost in the semifinals to Jackson 3-2, but they still had one more shot at a state berth, as they played a win or go home matchup against the Bothell Cougars and won 3-0.
"It was really exciting to go to the state tournament," senior Emma Fortney. "We said that we 'broke the curse' as in the 'district curse' because we always go to districts and miss out on state, so it's exciting that we're going this year."
Lake Stevens took advantage of that long-awaited state opportunity with three straight statement wins over Sumner, Skyview and Richland, where the latter was, at the time, the top-ranked team in the state of Washington according to MaxPreps.
"For those 3 games, we wanted to play for our coaches because they have never been in this position before as well as motivating each other," Fortney said. "But also, it's because we wanted to get to Jackson."
Indeed they did.
The two teams faced off again, this time in a David vs. Goliath battle of the reigning state champion Jackson Timberwolves and the Lake Stevens Vikings, who were in their first ever state championship game. After a strong start by the Vikings, unfortunately, they lost 16-2 to bring their final record to 22-5, ending their season with a second place finish in the 4A WIAA State Tournament.
"It feels good to represent our school that way. I'm so glad that we can go out that way," Hoskins said. "As a senior, personally, I was really happy that I could help make that happen for us."
Congratulations to the Lake Stevens Vikings Girls' Softball Team on their amazing finish at the 4A WIAA State Tournament.