The 2019 Seattle Mariners' Interesting Season Start.
In an intriguing turn of events, the team has been scoring in a manner nobody could foresee.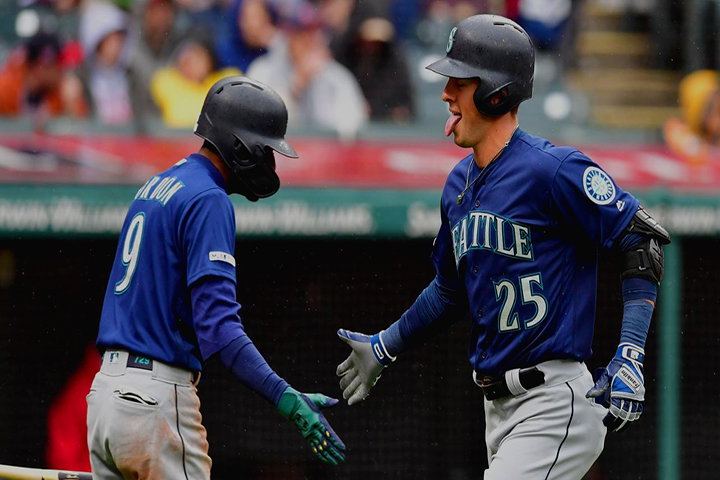 Overview
The Mariners were held to pretty high expectations after the 2018 MLB season concluded, just shy of making the wild card in the playoffs. Fans were feeling a culture change and getting excited about the Mariners for the first time in years. The idea of playoffs in the Emerald City after almost two decades seemed amazing, almost too sudden, too good to be true. And the offseason would prove that claim to be correct for many.
Offseason Decisions
On October 29, 2018, the Mariners started the offseason by allowing big-name Nelson Cruz to enter free agency. I and many other fans were not happy about this move because Nelson Cruz had been one of the best hitters on the Mariners for almost half a decade. He was the light of a somewhat dark team for that duration of time, and it was sad to see him go.
When November 8, 2018 arrived, we had our first trade for the Mariners' offseason. Michael Plassmeyer (Minor league Pitcher), Guillermo Heredia (Major league Outfielder)and Mike Zunino (Major league Catcher) were traded to the Tampa Bay Rays for Jake Fraley (Minor league Outfielder) and Mallex Smith (Major league Outfielder). The worst part of this trade for me was giving up Mike Zunino. For some unknown reason, he's one of the most likeable players. Maybe it's because I played catcher when I was younger and "connect" with him a little more than other players, but he could just be a lovable guy and a nice person.
The next trade was on November 19th when pitcher, James Paxton, was traded to the "Evil Empire", the New York Yankees. The deal was Paxton for Dom Thompson-Williams (Minor league Outfielder), Justus Sheffield (Major league Pitcher), and Erik Swanson (Major league Pitcher). I know that Paxton is a good pitcher, but I didn't have a personal reaction to his departure. Sure, at first I was frustrated that we lost a good player and one of our best pitchers, but I forgot about it about a day later.
These next two trades occurred on the very same day, December 3, 2018, and were the most painful to watch. The first of these two trades gets rid of Robinson Cano (Major league 2nd Baseman) and Edwin Diaz (Major league Pitcher) to the New York Mets for Justin Dunn (Minor league Pitcher), Jarred Kelenic (Minor league Center fielder), Geron Bautista (Major league Pitcher), Jay Bruce (Major league Right fielder), and Anthony Swarzak (Major league Pitcher). Cano and Diaz were two of the best players on the Mariners at the time they were traded, Cano being one of the best hitters, and Diaz being the best closer. The Mariner chose to trade away Juan Nicasio (Major league Pitcher), James Pazos (Major league Pitcher), and Jean Segura (Major league Shortstop) for J.P. Crawford (Major league Shortstop), and Carlos Santana (Major league 1st Baseman). Jean Segura was a rising star on the Mariners and played a factor in  the Mariners almost making it to the playoffs.
On December 13, the Mariners traded Carlos Santana (Major league 1st Baseman) and cash to the Cleveland Indians. In the same trade, they got money and Edwin Encarnacion (Major league 1st Baseman) from the Tampa Bay Rays. I wasn't too enthusiastic about this trade. Yes, Encarnacion is a great player and would fill a hole left by the departures of Robinson Cano and Nelson Cruz, but he's just so expensive and only has so much left in the tank. He is currently 36 years old and making $20 million, which isn't really the best thing when an organization is trying to get young and less expensive players. He has been consistent, but I expect his play to fall off in a couple of years or so.
When December 21 rolled around, the Mariners traded Noah Zavolas (Minor league Pitcher) and Ben Gamel (Major league Outfielder) to the Milwaukee Brewers for Domingo Santana (Major league Outfielder). I was actually very pleased with this trade. Ben Gamel, surprisingly a fan favorite, was being traded away. I don't know why people hailed him as a favorite, it could have been his luscious locks, but definitely not his play. He didn't really do anything on the offensive side of the ball and was a backup on defense. The return was my favorite part of this deal. A young, unproven guy who has a very powerful arm? COUNT ME IN!
On January 1, 2019, the Mariners signed Japanese pitcher Yusei Kikuchi. Kikuchi was one of the very best pitchers in Japan and was highly sought after (watch some tape on him and you'll see why) because of what he could do with the ball in his hands.
On January 10, the Mariners signed former 1st overall pick Tim Beckham. Beckham is a player who has never really lived up to the hype or expectations of being the number one overall pick (hence why we were able to sign him as a free agent).
On January 21, the Mariners traded away Josh Stowers (Minor league Center fielder) to the New York Yankees for Shed Long (Minor league Center fielder).
General Expectations Then
After all of these moves, the Mariners were consistently labeled as one of the worst teams in the MLB. They were pushed to the bottom of power rankings, fan morale and spirit dwindled in preparation for another disappointing team and year from an embarrassing organization.
Performance
DINGERS, DINGERS, AND MORE DINGERS! The Mariners have been a mixed bag, but are very fun to watch this season. Most of their games have been shootouts or blowouts delivered by the Mariners. Occasionally, there will be the abnormally slow game-as there is for any team in baseball-where barely anything happens in the game, very low scoring, and usually goes into extra innings.
The highlight of this team so far has been the high-scores. Nobody saw this coming, especially from the Seattle Mariners. I've noticed some of my friends in Lake Stevens getting more and more excited about the Mariners' season and what wild turns it will take us to. When you start scoring and winning, people will notice, pay more attention to the team, and more people will start showing up to games, increasing the team's popularity in the area.
They have been so good with their scoring, that they broke an almost 2-decade old record for consecutive home runs to open a season. The goal to beat was 14 consecutive games with at least one home run scored to start off the season, and they surpassed that record.
Expectations Now
The expectations of this team are now spectacularly higher, some even predicting a return to the playoffs again. I, for one, have increased hopes and expectations for this season. Like many others, I was very skeptical of this team and their apparent new direction to go young, abandon old players, and dump those older, aging players to get as many prospects as you can. Most of the players that we traded for were almost all under the age of around 25, with a few exceptions, namely Edwin Encarnacion (See a detailed recap of the Mariner trade in the "Offseason Decisions" section).
Local Impact
I've had discussions with many of my friends and family about this new Mariners team and most of them are very excited for the future. This new culture has been a nice, fresh change to how the seasons usually tend to go (though we are very early into the season), and many people are pretty optimistic about this season and future seasons because of our seemingly unstoppable offense (Although, we were slowed down by the Houston Astros and Cleveland Indians, two of the best teams in the MLB currently). The focus on getting younger, unproven guys has worked out well so far, with Domingo Santana being my prime example. This sudden change in attitude and a team that now consistently hits home runs, scores RBI's, and generally scores large amounts of points almost every game has only helped gain spirit in the fans in Lake Stevens, and elsewhere.
The focus about this season (not just to me, but many others including the players), is a focus on fun, enjoying the game and having a blast, for both the players and the fans. So, enjoy this fun, new team, because the future is looking very bright for the Mariners. The more fans in our community support the Mariners, the more support from fans in a variety of communities will occur. This will only motivate the players and maybe even elevate their play with the fans having their backs.