Choir brings home two golds
Choir brings home gold awards and placed high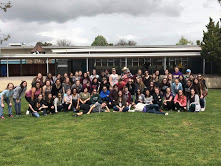 Between sports, Robotics, Knowledge Bowl and band, LSHS students are no strangers to competing. The Concert and Jazz Choirs are no exception. Over spring break, the Concert and Jazz Choirs traveled to compete in the WorldStrides San Francisco Heritage Festival. The festival is a national music festival for choirs, bands and orchestras.
The choir left early on the morning of Wednesday, April 5. After loading all 72 students and their luggage onto school buses, they headed for the airport. Transporting that many people (in addition to the students were eight chaperones and Heidi Forslund, the choir director) is much easier said than done.
"It's absolutely insane," senior Stephanie Fosse said. "You have to keep track of everyone and [traveling is] especially [difficult] with choir kids because they just want to sing everywhere…There's just a lot of people. It's chaotic."
Fosse has traveled to a competition every year that she's been in choir at the high school. One of her fondest memories was when the choir competed in Disneyland in 2015. "We got to go to Disneyland, and that was fun, but it was my first big trip that I went on with choir."
After landing in California and spending the day at Fisherman's Wharf, the choir went on to compete the next morning, on April 6. While they only performed for about 40 minutes total (20 minutes for the Concert Choir and another 20 for Jazz), the students worked for months  to make their performance the best it could be before flying to San Francisco..
"We go into class, and we work on the songs for months,"  Choir President and senior Joshua Allinson said .
"We have to take our music home after school and over weekends and try to learn our own parts," added Fosse.
After their performance, the choir finally relaxed and spent the entire next day enjoying the weather at California's Great America theme park, where the awards ceremony was held that night. Out of 34 choirs, the Lake Stevens Concert Choir won a Gold 3rd Place Award, and the Lake Stevens Jazz Choir won a Gold 1st Place Award. The choirs were based on a national standard and size of school (LSHS, in this competition, was counted as a 3A school). Because of this, next year's Concert and Jazz choirs will be invited to perform in the Heritage Gold Festival, an exclusive invitation-only festival for winners of Gold Awards.
After the wait was over, the choir celebrated all the next day by bringing the awards with them to visit the Golden Gate Bridge. They then visited Chinatown, bought the obligatory In-And-Out Burger, and boarded the airplane to come home late Sunday night.
Pride is just one of many of the feelings that the students felt. While winning was a great reward for their hard work, the awards were less important to them than the community of the choir itself.
Sophomore Benjamin Byler said, "It's not a normal class. I can do what I want, which is sing."  
Seniors felt the same way. "It's like a big family," Fosse said. "I like having a place that I know I am safe and have friends."