It's not always 'sunshine and rainbows' being queer
LGBTQ+ students' experiences in a 'progressive' high school
In the drive to create a more accepting queer environment, technology has given everyone access to information surrounding LGBTQ+ issues. This rise in acceptance of LGBTQ+ individuals through policy and education is wonderful, especially for the future of our society, but our focus should be on the youth and what they're going through and how that will influence them in the future.
As the current students shape the environment for future LGBTQ+ students, legal changes in administration are only the first step. Lake Stevens High School is one of many schools that has enacted schoolwide policy changes regarding transgender students in recent years.
"Inside the class it's fine for the most part, teachers are good. It's the hallways that are usually a mess, and it's not even really terrible. It's just there's a lot of trans/homophobia within the student body," junior Brendan Dunne said.
Some student-led organizations exist, such as the Gender Sexuality Club (GSA) a group that you know is safe to be more open to that has no presidents or "leaders". Students who have both taken part or know of the club report it being a fun, welcoming space. Lynn Atchley is the current GSA advisor who hopes the club acts as a safe space for socialization among students.
"We put up flyers for GSA, and I noticed people took them down… what is it about that, that is threatening to someone that they would make the effort to do something like that?" Atchley said.
Of the students asked, 8 out of 11 said they had heard or seen hateful and/or discriminatory remarks by students of LSHS towards themselves or others. A majority of which are transphobic comments about names and pronouns and homophobic comments about "being a disgrace" or being harassed by students. "Lake Stevens High School feels like the most accepting non-accepting school. The teachers are great. It's the students where problems come up." a student who wishes to remain anonymous said.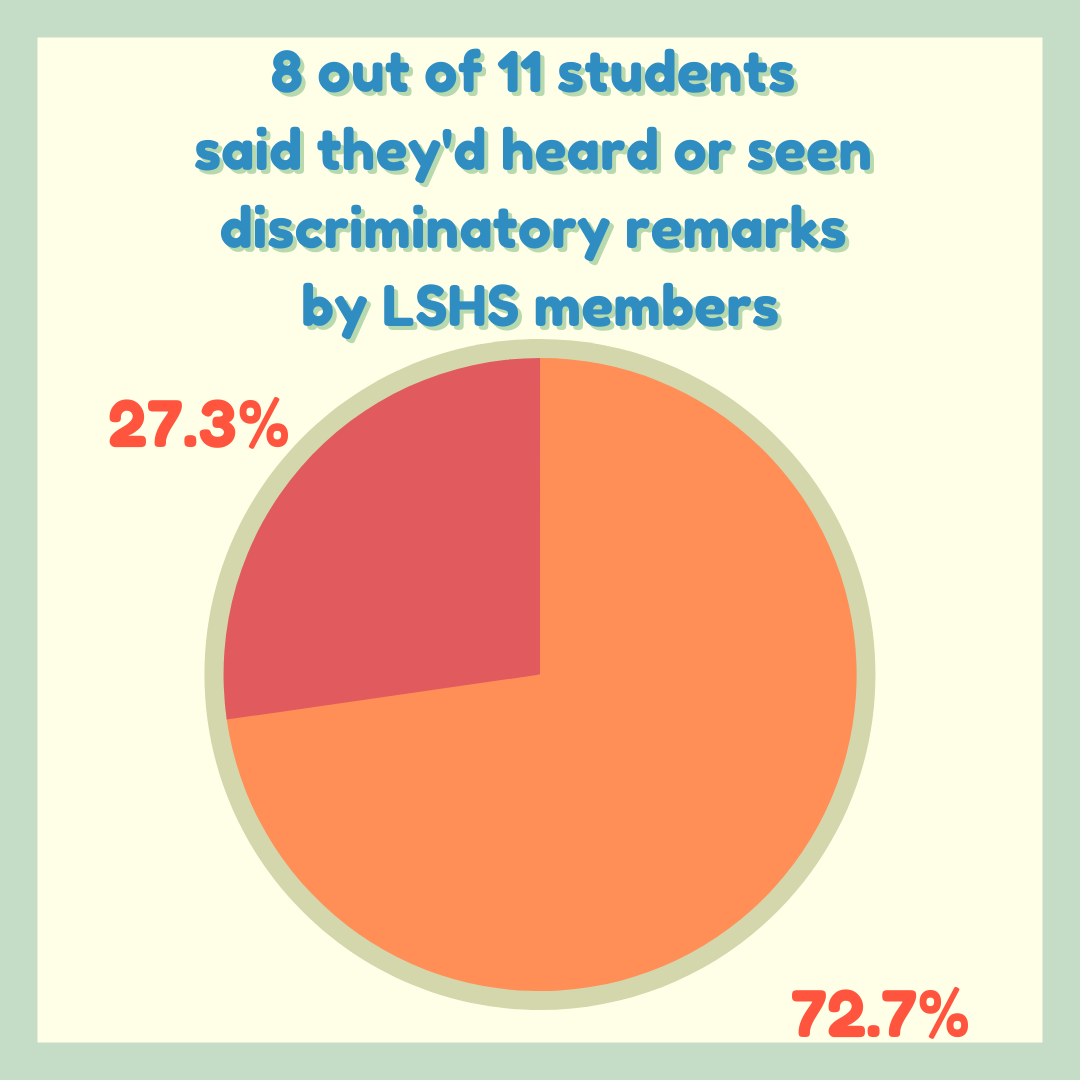 The fact that some may not have experienced or been told about discrimination, doesn't mean it is not still occurring in classrooms, in the halls or in the bathrooms. With the way they have set the Chromebooks up, when researching this topic, the site glsen.org, a well-known organization for aiding LGBTQ+ issues in schools, is blocked on school Chromebooks for the reason of "Human Sexuality." Even in an accepting environment as LSHS, discrimination and jokes made about a student's sexuality/gender continue to happen. Despite this, there are several students who still see the school as a safe place to be more open about their identity.
"There are things happening… I think we still have a ways to go, but I feel like we're… just because I don't observe stuff doesn't mean it's not happening," Atchley said.
The issue is this is also a two-way street. A cycle of discomfort continues as discrimination is repeatedly rarely reported, and name/pronoun changes aren't shared with teachers. Part of the issue is that students also don't know if all of their teachers are a safe place to report anything when not all of them outwardly show support in a way that says "You can talk to me." There should be an easier line of communication that makes it easier for students and teachers to effectively communicate issues.
LSHS is doing a lot more than other schools, but that doesn't mean there isn't more we can do. If teachers can show they're accepting more clearly, and if students can report discrimination more often, then the campus grounds can become a much safer place for LGBTQ+ students.
Leave a Comment