Vaccines roll out rapidly
With vaccination efforts in full effect, more people become eligible for shots
After a year-long battle against the novel coronavirus, newly developed COVID-19 vaccines are being rolled out to protect the human population. The first dose of this COVID-19 vaccine was administered on Dec. 14, 2020.
Because of the variance of risk for different groups of people, this newly developed mRNA vaccine is being rolled out in phases. People who are at a higher risk to the virus come first in line to be poked in the arm.
Lake Stevens photography teacher, Elizabeth Granillo, is one of the people that is at high risk. She has a history with cancer and more recently has been hospitalized due to strokes.
"My medical history makes me eligible for the COVID-19 vaccination. Breast cancer has left me with a compromised immune system, and then I've had the three recent hospitalizations," Granillo said.
As more doses are becoming available, the vaccines are opening up to people who are less at risk. As of Mar. 17, Washington State is in Phase 1B tier 2 of vaccine distribution. This means that people 16 and older who are pregnant, or with other high risk disabilities, are allowed to receive the vaccine. Also in this group are people aged 65 or older, 50 years of age who live in multigenerational households, healthcare workers, educators, and people who work in long term care.
"I have a little bit of a unique situation with how I got my vaccine. My dad and grandma are high-risk and I'm mostly taking care of them, whether it's driving them to appointments or whatnot," sophomore Romeo Bustillo said.
Soon, everyone 16 and older will be available to get vaccinated. On Mar. 28, President Biden tweeted, "Two weeks ago, I directed all states, tribes, and territories to make all adult Americans eligible for the vaccine no later than May 1 — and we're already making progress". Some states are ahead of this goal and are either already open or will open up on Apr. 15. Some people, however, may think that this isn't the best option.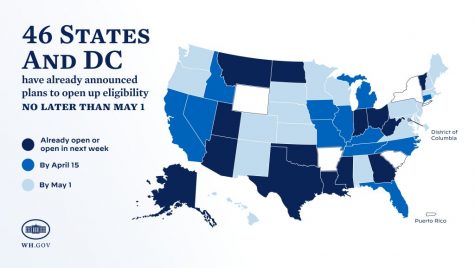 COVID Map: 46 states have announced they plan on opening up eligibility by May. 1. Photo courtesy of whitehouse.gov
"It's great that vaccine distribution has been going well in the United States, but I'm a bit worried for other countries with less access to the vaccine. Personally, I think we should purposefully push it back so we can help supply other countries in need," senior Hannah Sangwin said.
In the end, everyone who is willing to be jabbed in the arm is going to receive a vaccine. With this, we can be hopeful that cases will go down, and we'll return to a little more normalcy. And maybe for us seniors, we might even get a graduation.
For help finding a vaccination site, visit the CDC VaccineFinder.
Leave a Comment