Lake Stevens Vikings headed towards a successful Spring Season
Spring sports started on Monday, Feb. 28 and included baseball, boys soccer, boys & girls golf, girls tennis, softball, and last but not least track & field.
Sports at Lake Stevens High school are very competitive and draw students together from all different backgrounds. Some athletes have been training for their sports for months.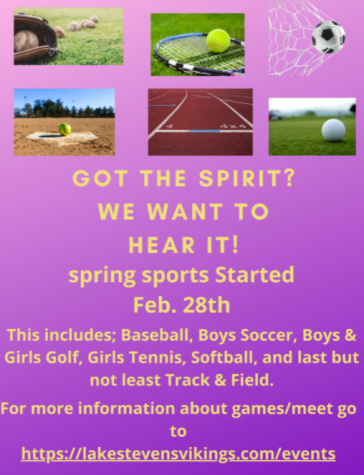 "I've been running since August with my club team, and I think I'm pretty prepared," track and field participant senior Sean Cochran said.
There are many more students who have been practicing/training to prepare themselves so they can be the best they can for the spring season.
Due to COVID-19 in the previous years, a lot of sports were shut down or only had a half season, but this year spring sports will run a full season like fall and winter sports.
"I'm very excited. I'm glad that we actually get a season because last year we got half a season, and the year before that we didn't get a season at all," senior Jacob Warren, who is on the track and field team said.
This year the students are confident and more ready than ever to compete in their meets or games. It's an amazing opportunity to join the fun and see what all the excitement is all about, and maybe come out to support your fellow classmates. See you all at the games/meets!!
For information about schedules on games and meets go to "https://lakestevensvikings.com/events".
Leave a Comment