Winter sports check-in
Basketball and Wrestling teams find success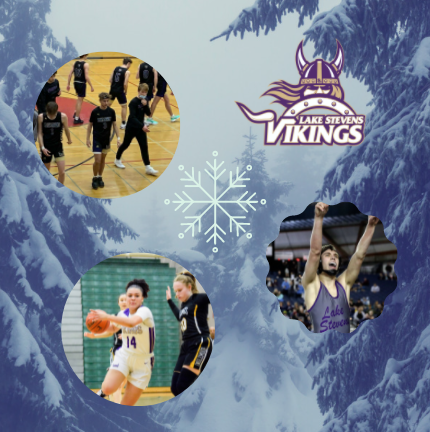 Wrestling
The boys wrestling team has had great success in the past as anyone can see with the many banners hanging in the gym, and this year is no different. To prepare them for the Wesco teams, they went to Montana for a tournament early in the season.
"Going over there was a great test for us as individuals and as a team," senior Wyatt Springer said.
Springer and the rest of the team were very excited for this season because they have a postseason, unlike last year, so this gave them a goal to work toward. Despite their goals, they have battled against COVID like many winter sports athletes.
"We have had a bunch of people out due to COVID even coaches," Springer said.
This was only a bump in the road for the boys wrestling team, and it kept them focused knowing that not every match was promised. They have had a strong season with a current record of 3-0 in league duels, placing them at the top of the Wesco 4A conference. Look for them to have a strong postseason showing as Coach Brent Barnes ends his coaching career at LSHS.
Girls Wrestling
Same as their male counterpart the girls wrestling team has also had success this season. Even with such a young team only having two seniors on roster they still dominate on the mat. They have had an amazing season winning Wesco 4A. They continued their success placing 3rd out of 31 teams at subregions.
They have had some great success at subregions having multiple people place even some winning their division. Such as junior Tyra Wheless for winning 120. Other people that placed was senior Cianna Helenihi (2nd), junior Maddy Benintendi (4th), freshman Emma Dean (6th), senior Mikaela Miller (4th), and junior Kourtney Etheridge (5th).
"Madisen Bowers is our team captain and she is what keeps our team together," Wheless said.
Junio Madisen Bowers has had an impressive thus far even winning her class at regions and hopes to continue it into regions and hopefully state.
Boys Basketball
The boys basketball team has a current record of 8-9 with a 2-4 record in league play. They started off the season hot with a 6-4 record but faced four straight losses to top-ranked teams, such as Kings and Lynden. They also started league play 0-4 but have had two back-to-back wins against Jackson and #7 ranked (SBLive) team in the state, Glacier Peak.
"This year is definitely different with all of these last minute cancellations of games due to COVID and picking up games with a one-day notice. Not being sure who's going to play and even against who and when has been a big thing this season with games having to be canceled and rescheduled," senior Jordan Newby said.
While the season has not gone as planned the Vikings strung together 3 straight wins to clinch the third seed in Wesco 4A to qualify them for the Wes-King Bi-District tournament where they have a chance to qualify for the state playoffs.
"To make it to where we want to be, we have to be very focused and locked in…we definitely have the guys to do it, but it's just up to us to make it happen," Newby said.
Girls Basketball
The Vikings girls basketball team currently has a 16-2 record and sits atop the 4A Wesco league with a league record of 8-0 making them Wesco 4A champions. They are currently ranked the sixth best 4A team in the state according to Scorebook live. They have a ton of talent leading this team with a number of their players going on to play at the collegiate level, such as Baylor Thomas, Cori Wilcox and Camille Jentzsch.
"We have a ton of unique pieces that some teams just can't compete with, and it's fun when we can put it all together," Thomas said.
They have notable wins against a highly ranked Tahoma team. This team has tons of experience playing with each other with four starters on the team starting all four years. With a plethora of seniors on the team, they have the talent and the experience to go all the way this year.
Leave a Comment