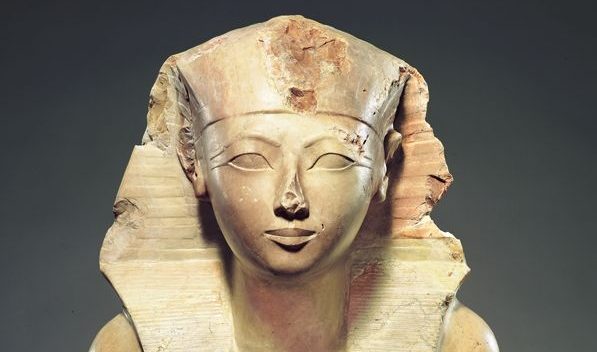 Hatshepsut
Hatshepsut, the longest female pharaoh of the Egyptian empire was born around 1507 BCE. She married Thutmose II and assumed the traditional role of queen and wife. 
After the death of Thutmose II after a 15-year reign, Hatshepsut was left a widow without an old enough heir to take the throne. Hatshepsut only had one daughter and a son from a concubine who was merely an infant. Since Thutmose III was too young to rule unaided Hatshepsut served as his regent. Initially, Hatshepsut bore this role traditionally; however, for some unknown reasons, she claimed the role of pharaoh. 
After she took the role of pharaoh she wore a traditional king's kilt, crown and a fake beard; this was not to come off as a man but to emulate a pharaoh the only way she knew how and to assert her authority.  
Under her twenty-one year reign Egypt prospered – from rebuilding monuments to ensuring economic stability for years to come. Hatshepsut focused on improving on what she already had rather than conquering new land. 
One of her most notable achievements was her trading expedition in the land of Punt where ships returned with gold, ivory and myrrh trees. This scene was later engraved into the walls of the Punt temple. 
Hatshepsut died in 1458 from an ointment that was later found to have toxic chemicals inside. It was speculated that Hatshepsut used this salve as a short-term cure for a chronic disease that was prevalent in the family, and over time the chemicals caused her death.