Fall Sports Wrap-up
Fall sports breakdown of girls volleyball, girls swim and dive, and girls soccer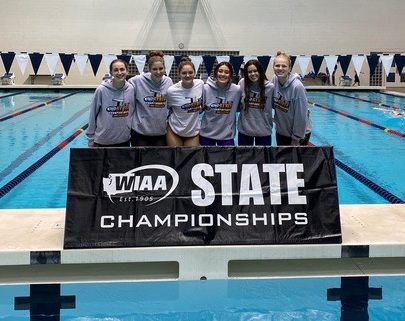 Girls Swim and Dive
The girls swim and dive team had a really fun and successful year. Overall, they ended up losing only one meet this season.
"The one week that we lost was Glacier Peak, and they're, they're really fast. So congratulations to them," sophomore Charlotte Lamb said. "All the other meets were really good. Everybody did great," Lamb continued.
The girls swim and dive team ended up sending one individual and two relays to state. Senior Madelynn Butler placed sixth in the 50 yard free with a time of 24.46, and fourth in the 100 yard free with a time of 53.32. The relay team, Autumn Marlett, Charlotte Lamb, Madelynn Butler, and Savannah Foley, placed 13th in the 200 yard free relay with a time of 1:44.34, and 11th in the 400 Yard Free Relay with a time of 3:48.13.
"Everybody from like the start of the year, all of my friends, all the people I know, they've dropped a lot of time, they've gotten a lot better," Lamb said.
Great job to the whole girls swim and dive team, and congrats to those that went to state and competed!
Girls Soccer
The girls soccer team ended the season with a record of 6 – 9 – 1 (six wins, nine losses, and one tie). After a long season, the soccer team made it to districts, but sadly lost in the first round against Mount Si 3-2.
"The team stayed positive this season because we have had a lot of seniors and wanted to make sure they make the most out of their last year playing soccer," sophomore Zoe Hopkins said. She continued on to say that "Highlights (of the season) were probably (during) senior night, because we had almost every senior score so they all got to contribute to the win."
Girls soccer had a very exciting season that deserves celebration. Good job ladies!
Girls Volleyball
Girls volleyball wrapped up the season with a very impressive overall record of 19 – 2, and finished as the top 4A Wesco team. At state this year, the girls placed seventh. November 19th was the first day of the state tournament, but sadly Lake Stevens lost to West Valley 3-2. Making a big comeback in the second bracket, Lake Stevens went on a three game winning streak. They finished by defeating Olympia 3-1, putting the Vikings in seventh place overall.
Congratulations to all fall sports, and the team and individual successes that came with the 2021 season. Good job Vikings!
Leave a Comment