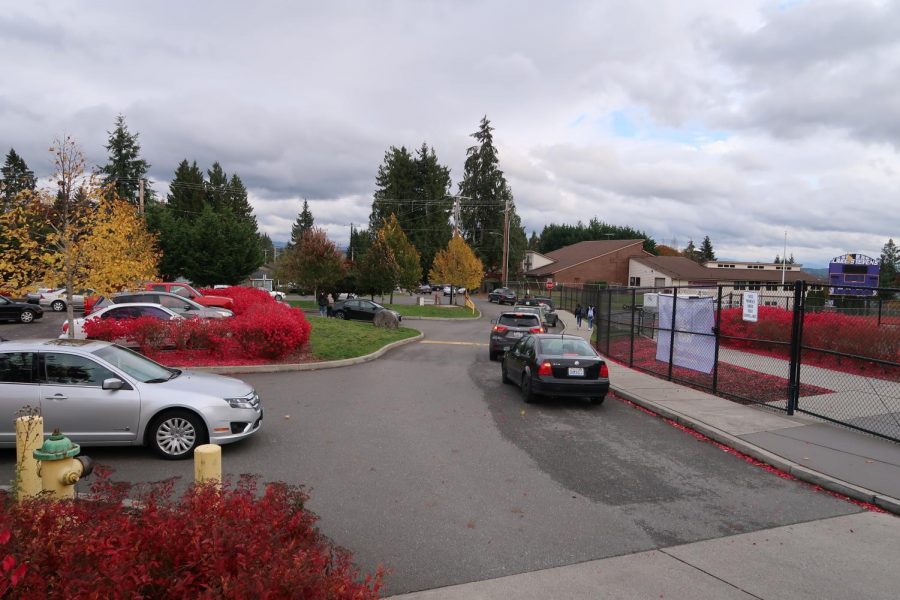 Everyone knows the feeling of turning 16, getting your driver's license and finally being able to stop riding those smelly overcrowded school busses. At least for me, I was psyched to stop riding the bus that picked up the middle school on our way home. But it isn't all glory all the time. We drive ourselves to school feeling on top of the world and we arrive but… where will we park? How many juniors seniors and even sophomores drive to school? That question remains unanswered. Everyone knows of the struggles to find parking, and the time it takes to get out of the crowded parking and merge onto the crowded street. 
Senior Hannah Somerville missed out on the parking lot pass sales this year because tickets "sold out immediately this year." She also has concerns about students speeding through the parking lot.  "[I'm} pretty sure there's been some accidents in the parking lot" because of the speed issues. 
Somerville now parks down the road from the school on 32nd St NE and normally has to arrive around 7:00 am to get a good spot.
Senior Charlee Shannon has a shortened schedule this year which translates into less stress about parking at school. Since Shannon arrives late and leaves early she been able to release so much stress about getting parking and get out of the lot. 
"If I stay late it normally takes me about 15 minutes to get out,"Shannon said.
 Even though she doesn't have to worry about finding her parking with other students around, she still has some serious safety concerns about the student parking lot expressing that she "almost got hit by a tractor in the parking" lot because of vans and other vehicles blocking hers and other people's vision."We should've added more parking [than planned] because all the new students the school and cities expansion is bringing in." 
Other students have chosen to arrive early to get good parking at school.
"I normally get to school around 7:00 am to get a spot close to the walkway to get into the school," Senior ASB President Jakob Bivens said. Additionally, he has some words about safety.
"[I want}"people to be more cautious and courteous, pay attention and let someone in before you," Bivens said. 
Many students including Jakob work after school; on occasion he's had to leave his work clothes in the car because of how long it takes him to leave school worried he won't have enough time to go home before work. Bivens also shares that he always wants to listen and do his best to support the student body, but he's not sure if there's anything he could change about the parking lot even though he has his own wishes for our crowded domain.
All in all, the student parking lot is an issue in the student's eyes even though we are optimistic for when the construction is completed. Students have shared their opinions on the number of spaces and even who should have spaces where, as well as the concerns of students not being cautious while driving and other vehicles causing hazards for drivers. Unfortunately, we're going to have to push through because it doesn't seem much change to the parking lot will come before this year's end.