Do freelance artists aspire or inspire?
Students and staff work together to add art to construction zone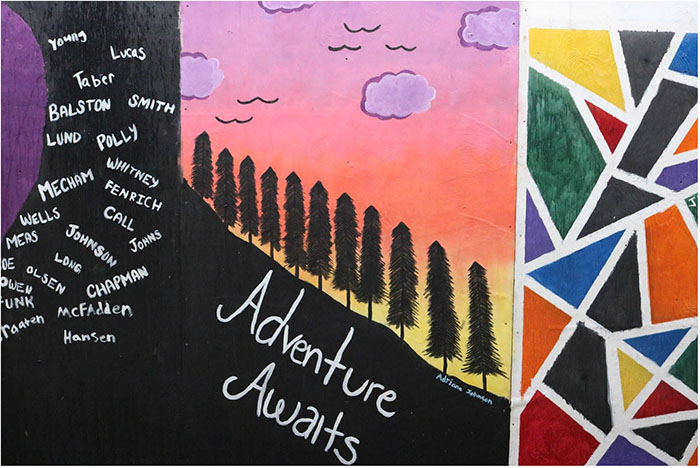 Lake Stevens High School is currently under construction, and student life seems cramped and bleak. With the addition of plywood walls to keep the students safe from the construction, flexibility in terms of free movement around campus is at an all-time low. The school feels closed off, more than ever.
But why not make the most of these walls while they're here?
Proposed and launched by ASB, students were allowed to paint the walls.
ASB designated segments of the wall to the Sophomore, Junior and Senior Classes.
The only stipulation was that the content needed to be appropriate; students could paint whatever they want on the walls. Freelance artists took a shot to publicly express their creative visions.
Sophomore Adriana Johnson painted a beautiful sunset with her own caption "Adventure Awaits" similar to the well known "Adventure is out there" from Disney's "UP".. Johnson channeled her inner Bob Ross and blended her vision of California sunsets.
Junior Madison Boiles, painted an illustrious Viking Octopus, with no true message.The Octopus is holding a football and a 1st place trophy. Without any inspirations or techniques Boiles said she "just kinda went with it really honestly."  
Another sophomore Josie Chapman collaborated with her fellow friends to create a colorful floral mural, they didn't have any goals or directions when painting it Josie and her were dedicated to their cause as "It took us eight hours or so and two hours out of school" Josie Chapman said. The creative and collaborative effort put in by these young ladies sure is the brilliant to witness.
Junior Jacqueline Personius painted a very inspirational galaxy mural like all the other artists she didn't use any specific methods but they did paint this with a purpose." The quote it is bright colors and it is a motivational quote to make students happy for when their stressed in school we got the quote on instagram and though it would good and added to it." Jacqueline said the mural can be compared to the Hang in there Baby made in 1971.
There are many more artists who participated in painting the walls, adding color, flare, and mood to the school.