Lake Stevens Drama brings back another play
"Lost in Yonkers" comes to the PAC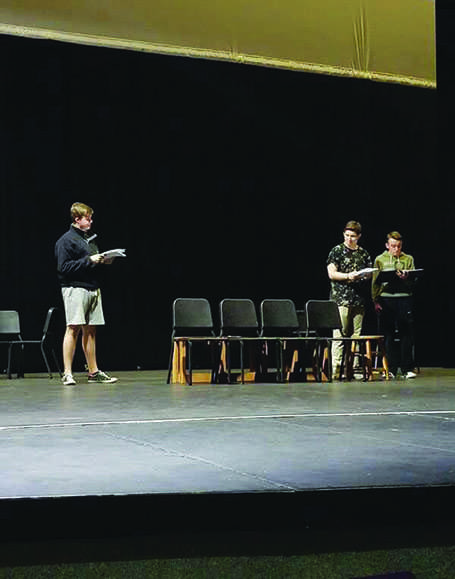 Hang on for a minute...we're trying to find some more stories you might like.
Lake Stevens Drama Club is back to put on another spectacular show! However, contrary to their last show, The Music Man, which was more of a light-hearted musical, this time with their new show, Lost in Yonkers, they take on a more serious tone.
The new play takes place in Yonkers, New York, and is about a highly dysfunctional family. Within in the family are two brothers who live with their father, until he goes away to find money for his wife's cancer treatments. Meanwhile, the children go to live with their evil grandmother and mentally ill Aunt Bella. Overall, this season's play is much more serious and almost the complete opposite of last season's musical.
Along with the serious tone, the other new aspect of this play is the extremely small cast. There are only seven roles, three of them female. With that said, it was a fairly difficult play to audition for.  
"I was probably more nervous for that audition than anything else because the cast is so tiny," said sophomore Shannon LaVelle.
LaVelle earned the role Aunt Bella in the play and as a sophomore and is honored to play the role. LaVelle's character also is a difficult role to play because she suffers from a mental illness, causing her brain to develop slower than usual. Acting as a healthy character is hard enough, but LaVelle is looking forward to taking on challenge of portraying Aunt Bella.
Another student who was excited to be a part of such a small cast, was junior Jocelyn Van Der Put. Van Der Put plays the slightly smaller role of Aunt Gert, which is also a challenging role since Gert has a breathing problem. Van Der Put has been doing drama since kindergarden, and played the  the mayor's wife in The Music Man. She is passionate about drama and music and is looking forward to seeing how this season's play turns out.
"I'm really looking forward to seeing how me and these other people are going to fit our characters, so it will be really interesting to see how we can bring these characters to be our own," said Van Der Put.
Although the cast is a major part of the play, the students behind the scenes also are in charge of some vital pieces that come together and make the play come to life. One student on the crew is sophomore Emily Grieser. Grieser is in charge of the play's costumes, and without her it would be hard to see the characters as themselves. Grieser is in charge of finding,  buying and perfecting each character's costumes by following a costume guide within the script. She didn't expect to be in charge of costumes on the play but thought it would be a fun way to get involved.
"We went up to the prop shop for something for choir and I was like picking out costumes for something, and I just got really excited about it and thought, 'I should do costumes for the play!'" said Grieser.
In the end, this season's play will not be one you smile to because it's so happy and light hearted, but one you will remember because of the emotional characters and story plot. Lost in Yonkers is definitely not a play you want to miss. This show will push the actors to their limits and the character development will be phenomenal.
Come out and support your Lake Stevens Drama Club on April 27, 28, 29, May 4, 5 and 6 and watch our students put on an unforgettable performance!